#LayoutContents {
width: 1080px;
background: #ffffff;
border-top: 10px solid #99e5e5;
border-left: 1px solid #999999;
border-right: 1px solid #999999;
padding: 0 20px;
}
#LayoutContents .row {
color: #1e3d59;
width: 100%;
}
* {
margin: 0px;
padding: 0px;
outline: none;
font-family: Arial, Helvetica, sans-serif;
text-align: left;
border-radius: none !important;
}
.line1 {
padding: 0px;
border: 1px solid #eaeaea;
height: 105px;
min-height: 100px;
}
.logo {
width: 100%;
max-height: 100px;
overflow: hidden;
height: 100px;
}
.logo img {
display: block;
margin-left: auto;
margin-right: auto;
}
.line1 .logo {
width: 100%;
max-height: 100px;
overflow: hidden;
height: 100px;
}
.line1 .logo img {
display: block;
margin-left: auto;
margin-right: auto;
}
.search {
width: 100%;
border-left: 1px solid #eaeaea;
}
.search i {
font-size: large;
color: #747476;
}
.search input {
width: 100%;
border: none;
height: 100px;
max-width: 730px;
font-size: 20px;
}
.searchinput {
padding: 0 25px 0 25px;
color: #747476;
}
.topnav {
padding: 10px 0 0 0px;
-webkit-box-shadow: inset 0px -5px 0px 0px rgba(0,0,0,0.75);
-moz-box-shadow: inset 0px -5px 0px 0px rgba(0,0,0,0.75);
box-shadow: inset 0px -5px 0px 0px rgba(0,0,0,0.75);
}
.navHeader {
padding: 0px 0;
display: block;
margin-left: auto;
margin-right: auto;
}
.navHeader ul {
display: table;
margin: 0 auto;
}
.navHeader ul li {
float: left;
}
.navHeader ul li a {
text-decoration: none;
line-height: 45px;
padding: 0 30px;
font-family: Arial, Helvetica, sans-serif;
font-size: 16px;
font-weight: bolder;
color: #69696c;
}
.navHeader ul li a:hover {
border-bottom: 5px solid #e94a38;
color: #e94a38;
}
.bannerline {
padding: 0px 0px;
}
.ttop {
padding-top: 40px;
}
.title {
padding: 0px 0px 10px 0px;
color: #6d6e71;
font-size: 20px;
text-align: left;
border-bottom: 3px solid #585960;
}
.price {
font-size: 20px;
text-align: left;
font-weight: bold;
color: #e94a38;
line-height: 30px;
float: right;
padding: 0px;
}
.banner {
width: 100%;
height: 350px;
border-bottom: 10px solid #efa595;
margin: 20px 0;
}
.line2 {
padding: 0 0px;
border-bottom: 3px solid #000000;
}
.photoline {
padding: 5px 70px 20px 70px;
border: 1px solid #eaeaea;
border-top: none !important;
}
.photoarea {
border: 1px solid #CCC;
padding: 20px 0;
}
.mainPhoto {
padding: 0px;
background: #ffffff;
}
.vcenter {
display: none !important;
}
.mainPhotoContainer {
padding: none !important;
width: 450px !important;
height: 450px !important;
display: block;
margin-left: auto;
margin-right: auto;
float: left;
}
.mainPhoto img {
padding: none !important;
max-width: 450px !important;
max-height: 450px;
display: block;
margin-left: auto;
margin-right: auto;
}
.galleryContainer {
width: 200px;
padding: none !important;
margin: 0 20px;
float: right;
}
.galleryPhoto galleryBtn {
display: none !important;
}
.galleryContainer ul li {
float: left;
margin: 0 10px 10px 10px;
width: 80px !important;
height: 80px !important;
padding: none !important;
list-style: none;
}
.galleryContainer img {
width: 80px !important;
max-height: 80px !important;
padding: none !important;
}
.galleryWrapper li {
padding: none !important;
box-sizing: inherit;
}
.htmlBox {
padding: 20px;
font-size: 14px;
color: #585960;
line-height: 24px;
border: 2px solid #f2f2f3;
margin: 20px 0px 10px 0px;
overflow: hidden;
}
.htmlBox table {
width: 100% !important;
}
.desc ul {
display: inline !important;
list-style: square !important;
}
.descline {
padding: 0 90px;
}
.advarea {
border-top: 10px solid #99e5e5;
padding: 20px 0 45px 0;
}
.adv_up {
padding-bottom: 25px;
}
.adv_up img {
width: 460px;
}
.adv_bom img {
width: 460px;
}
.nav-tabs {
margin: 0px 0px;
border: none !important;
background: none;
font-family: Arial, Helvetica, sans-serif;
font-size: 12px;
}
.nav-tabs>li {
margin-right: 0px;
background: none !important;
border-radius: 0 0 0 0 !important;
}
.nav-tabs>li>a {
color: #c3c3c3;
text-align: center;
font-size: 18px;
padding: 20px 45px !important;
background: none !important;
border: none !important;
border-radius: 0 0 0 0 !important;
}
.nav-tabs>li>a:hover,
.nav-tabs>li>a:focus,
.nav-tabs>li.active>a {
text-decoration: none;
color: #ffffff;
background: #f3a49d !important;
border-radius: 0 0 0 0 !important;
}
.nav-tabs>li>a:focus:after,
.nav-tabs>li.active:after {
text-decoration: none;
color: #ffffff;
background: none !important;
width: 0;
height: 0;
-webkit-box-shadow: inset 5px 0px 0px 0px #beb197;
-moz-box-shadow: inset 5px 0px 0px 0px #beb197;
box-shadow: inset 5px 0px 0px 0px #beb197;
border: none !important;
border-radius: 0 0 0 0 !important;
}
.nav-tabs>li.active>a,
.nav-tabs>li.active>a:focus,
.nav-tabs>li.active>a:hover {
color: #ffffff;
background: #f3a49d !important;
border: none !important;
border-radius: 0 0 0 0 !important;
}
.tab-content {
margin: 0px 0px;
padding: 20px;
font-family: Arial, Helvetica, sans-serif;
font-size: 14px;
color: #6d6e71;
line-height: 24px;
min-height: 300px;
border: 2px solid #f2f2f3;
}
.terms {
border-top: 2px solid #000000;
}
.itemDesc {
padding: 20px;
font-size: 14px;
color: #585960;
line-height: 24px;
border: 2px solid #f2f2f3;
margin: 10px 0px 20px 0px;
}
.itemDesc ul li span {
padding-right: 5px;
}
.line3 {
padding-top: 30px;
}
.ptop {
height: 60px;
}
.ptop2 {
height: 60px;
margin-left: 0px;
}
.ptop .top {
float: left;
background: #e74b3c;
width: 100%;
color: #ffffff;
font-size: 16px;
line-height: 60px;
text-align: center;
}
.ptop2 .top {
float: left;
background: #e74b3c;
width: 100%;
color: #ffffff;
font-size: 16px;
line-height: 60px;
text-align: center;
}
.subHeading {
height: 60px;
background: #e74b3c;
width: 100%;
color: #ffffff;
font-size: 16px;
line-height: 60px;
text-align: center;
margin-bottom: 20px;
}
.storeList {
margin: 0 !important;
}
.storeCategory {
background: #f1f2f4;
padding: 0 0 20px 0px !important;
font-size: 15px;
color: #999999;
text-align: center;
margin-bottom: 20px;
margin-right: 20px;
}
.storeCategory ul {
list-style: none;
}
.storeCategory ul li {
width: 100%;
}
.storeCategory ul li.storeHome {
display: none;
}
.storeCategory ul li a {
text-decoration: none;
padding: 7px 0px;
display: block;
text-align: center;
color: #393a3c;
font-size: 12px;
}
.storeCategory ul li a:hover {
background-color: #f3a49d;
color: #ffffff;
}
.storeHeader {
float: left;
background: #e74b3c;
width: 100%;
color: #ffffff;
font-size: 16px;
line-height: 60px;
text-align: center;
margin-bottom: 20px;
}
.childCate {
display: none;
}
.subscribe {
background: #f1f2f4;
color: #393a3c;
padding: 0 0 30px 0;
margin-right: 20px;
}
.subscribe .subContent {
font-size: 14px;
text-align: center;
padding: 20px;
color: #393a3c;
}
.subscribe a {
font-size: 16px;
font-weight: bold;
color: #ffffff;
padding: 10px 50px;
background: #33cccc;
margin: 0 20px;
}
.footline {
border-top: 13px solid #99e5e5;
background: #273542;
padding: 20px 120px;
margin-top: 65px !important;
width: 1080px !important;
margin-left: -21px !important;
}
.footline .logo img {
max-height: 100px;
}
.navFooter {
padding: 10px;
display: block;
margin-left: 0px;
border-bottom: 3px solid #ffffff;
margin: 0 0 0 100px;
}
.navFooter ul {
list-style: none;
float: left;
}
.navFooter ul li {
float: left;
padding: 15px 30px 15px 0;
text-align: left;
}
.navFooter ul li:last-child {
padding-right: none !important;
}
.navFooter ul li a {
text-decoration: none;
font-family: Helvetica, sans-serif;
font-size: 14px;
color: #ffffff;
font-weight: bold;
padding: 0 0 !important;
}
.navFooter ul li a:hover {
color: #99e5e5;
}
.clearfix {
clear: both;
}
.banners {
width: 100%;
height: 400px;
border-bottom: 10px solid #efa595;
margin: 20px 0;
overflow: hidden;
min-height: 100px;
}
[id^=tc]:checked + label {
background: #efa595;
color: #ffffff;
}
[id^=tc]:hover + label {
background: #efa595;
color: #ffffff;
}
.button {
width: 230px !important;
}
.button img {
width: 100px !important;
max-width: 100px !important;
}
gallery {
border: none;
margin: 0;
width: 100%;
padding: 10px 8px 10px 50px;
}
gallery photo {
max-width: 450px !important;
height: auto;
max-height: 450px;
overflow: hidden;
margin: 0 0 0 0px !important;
text-align: right;
}
gallery photo img {
max-width: 450px !important;
height: auto;
max-height: 450px;
border: none;
}
gallery label {
margin: 5px;
}
gallery label img {
width: 60px;
max-width: 60px;
max-height: 60px;
border: 1px solid #f2f2f2;
}
#gallery-0:checked ~ #gallerycontent-0 {
display: block;
}
#gallery-1:checked ~ #gallerycontent-1 {
display: block;
}
#gallery-2:checked ~ #gallerycontent-2 {
display: block;
}
#gallery-3:checked ~ #gallerycontent-3 {
display: block;
}
#gallerylabel-0:hover ~ #gallerycontent-0 {
display: none;
}
#gallerylabel-0:hover ~ #gallerycontent-1 {
display: none;
}
#gallerylabel-0:hover ~ #gallerycontent-2 {
display: none;
}
#gallerylabel-0:hover ~ #gallerycontent-3 {
display: none;
}
#gallerylabel-1:hover ~ #gallerycontent-0 {
display: none;
}
#gallerylabel-1:hover ~ #gallerycontent-1 {
display: none;
}
#gallerylabel-1:hover ~ #gallerycontent-2 {
display: none;
}
#gallerylabel-1:hover ~ #gallerycontent-3 {
display: none;
}
#gallerylabel-2:hover ~ #gallerycontent-0 {
display: none;
}
#gallerylabel-2:hover ~ #gallerycontent-1 {
display: none;
}
#gallerylabel-2:hover ~ #gallerycontent-2 {
display: none;
}
#gallerylabel-2:hover ~ #gallerycontent-3 {
display: none;
}
#gallerylabel-3:hover ~ #gallerycontent-0 {
display: none;
}
#gallerylabel-3:hover ~ #gallerycontent-1 {
display: none;
}
#gallerylabel-3:hover ~ #gallerycontent-2 {
display: none;
}
#gallerylabel-3:hover ~ #gallerycontent-3 {
display: none;
}
#gallerylabel-0:hover ~ #gallerycontent-0 {
display: block;
}
#gallerylabel-1:hover ~ #gallerycontent-1 {
display: block;
}
#gallerylabel-2:hover ~ #gallerycontent-2 {
display: block;
}
#gallerylabel-3:hover ~ #gallerycontent-3 {
display: block;
}
NEWSLETTER
Subscribe our newsletter. You will receive our newsletter once a week.
• eBay PayPal (by Visa/MasterCard)

• You must use a verified PayPal account

• If you do not have a PayPal Account you can still pay with your Credit / Debit Card, but this will be through PayPal ONLY.

• Please note that paying by eCheck via PayPal can delay your shipment by up to two weeks while payment clears through the PayPal system (Check with PayPal on the expected clearance date).Once your eCheck payment clears, your item will be dispatched to you within 1 working day.

• We only ship the item to your PayPal confirmed address.

• Please allow a few more days if you are located in remote areas.

• Please provide address in English ONLY.

• We DO NOT ship to any other address then the one specified at check out, NO EXCEPTIONS!!!

• All orders processed in present of cleared payment, if your order is made on Friday it will ship on Monday, holidays excluded.

• We care about customers receiving their packages in the most efficient and speediest manner available. We use express shipping solution for shipping your order although we may change the carrier in order to make sure orders are received as fast as possible.

• Sorry, but we are not responsible for undesirable addresses. Any non-received items caused by invalid address registered on PayPal are not covered by our full refund or replacement policy.




• International Buyers Note:

• Import duties, taxes and charges are not included in the item price or shipping charges. These charges are the buyer's responsibility. These charges are normally collected by the delivering freight (shipping) company or when you pick the item up. Please do not confuse them for additional shipment charges.

• Please check with your country's customs office to determine what these additional costs will be prior to bidding/buying.

We offer 1 year warranty.

• Damages caused by impact, shock, fall, sand, dust, dirt, dampness, leaking batteries, fire, theft, attempted theft, vandalism, acts of war or terrorism, corrosion, water contamination or ingress, frost, flooding, winds, earthquakes, lightning or other adverse weather conditions are not covered in our warranty. *A warranty card is not required for our warranty service.

• Items can be returned to Taiwan for repair services. BUYER pay for return postage. If there is any damage caused by HUMAN FACTORS we will charge an additional fee.

• We offer full refund if you receive defective item. BUYER is responsible shipping fee for return. Returned item must be kept in good condition for Refund.

• In case of any missing content, we shall have the rights to deduct certain amount and not to provide a full refund to cover the loss.

14 Days Money Back Guarantee

* All NON-seller mistake returns for refund are subject to 20% re-stocking fee and BUYER should pay for the return shipping fee. (E.g. you bought wrong model or wrong color and a change of mind.)

*The item and all its accessories provided in the box must be returned.

* In case of any missing content, we shall have the rights to deduct certain amount and not to provide a full refund to cover the loss.

*Customers are responsible for the return shipping fees.

Faulty Item Guarantee (Damage in delivery/Wrong goods)

We offer a 14-days guarantee for faulty items received upon delivery.

ž Customers should contact us via eBay message within 14 days after the item is received.

ž The Serial Number must correspond exactly to our record as illustrated by a supporting photo before we can provide further instructions for customers to send the item back.

ž Customers should record the goods after unpacking it. (To ensure that the goods have been damaged in the delivery process.)

ž The item and all its accessories provided in the box must be returned.

ž Scratches are not considered a manufacture defect. Only more than 3 dead pixels on screen would be considered a faulty or manufacturer defect item.

ž Buyer is responsible for the shipping fee.

Welcome to Playfone.go.
We engaged in selling mobile phones, tablet, headset earphones, and different kinds of accessories which is related to the hi-tech products.
We sincerely hope that customers can purchase the necessary products in our store.
We promise to do best for you, thanks:)
Samsung Galaxy A71 SM-A715F/DS 128GB 8GB RAM (FACTORY UNLOCKED) 6.7″ 64MP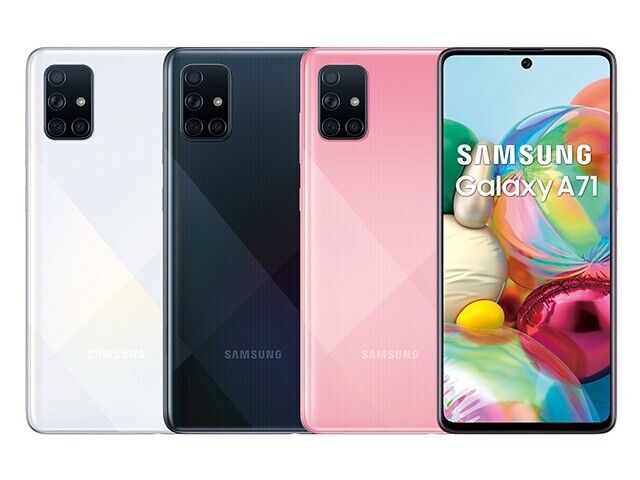 SPECIFICATION
BODY
Dimensions
163.6 x 76 x 7.7 mm (6.44 x 2.99 x 0.30 in)
Weight
179 g (6.31 oz)
Build
Glass front (Gorilla Glass 3), plastic back, plastic frame
SIM
Dual SIM (Nano-SIM, dual stand-by)
DISPLAY
Type
Super AMOLED capacitive touchscreen, 16M colors
Size
6.7 inches, 108.4 cm2 (~87.2% screen-to-body ratio)
Resolution
1080 x 2400 pixels, 20:9 ratio (~393 ppi density)
Protection
Corning Gorilla Glass 3
PLATFORM
OS
Android 10.0; One UI 2
Chipset
Qualcomm SDM730 Snapdragon 730 (8 nm)
CPU
Octa-core (2×2.2 GHz Kryo 470 Gold & 6×1.8 GHz Kryo 470 Silver)
GPU
Adreno 618
MAIN CAMERA
Quad
64 MP, f/1.8, 26mm (wide), 1/1.7″, 0.8µm, PDAF
12 MP, f/2.2, 13mm (ultrawide), 1.12µm
5 MP, f/2.4, (wide), dedicated macro camera
5 MP, f/2.2, 1/5.0″, 1.12µm, depth sensor
Features
LED flash, panorama, HDR
Video
2160p@30fps, 1080p@30/240fps
COMMS
WLAN
Wi-Fi 802.11 a/b/g/n/ac, dual-band, Wi-Fi Direct, hotspot
Bluetooth
5.0, A2DP, LE
GPS
Yes, with A-GPS, GLONASS, GALILEO, BDS
NFC
Yes (market dependent)
Radio
FM radio
USB
2.0, Type-C 1.0 reversible connector, USB On-The-Go
FEATURES
Sensors
Fingerprint (under display, optical), accelerometer, gyro, proximity, compass
ANT+
| | | |
| --- | --- | --- |
| BATTERY | | Non-removable Li-Po 4500 mAh battery |
We can not guarantee that the information on this page is 100% correct.Each phone have different operating systems when it out of factory, actual specification and color are based on the real product.